About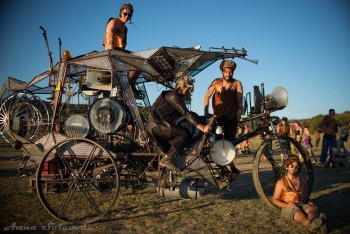 About
We endeavour to take our dreams and imaginings and make them into temporarily tangible objects. Our creations often exist only for a few hours or days and then are broken down to their basic components in a neverending cycle of creation and destruction.
Psychedelic and freetekno subcultures and our experiences travelling around the world blend together to provide the inspiration for our work. From the beginning we have used bamboo which gives us the reusable material for the realisation of our large scale installations.
Our works can usually be seen at small noncommercial Czech and international festivals and other community events.
O nás
Naší snahou je přetvořit své nehmotné představy a sny v dočasně existující hmatatelný artefakt. Naše práce často existují jen několik málo hodin až dní a poté jsou opět rozebrány na základní materiál v nekonečném cyklu vzniku a zániku.
Naší prací prochází inspirace psychedelickou a freetekno subkulturou stejně jako zkušenosti z cest po světě. Od počátku využíváme bambusu, který nám dal znovu použitelný materiál umožňující realizaci instalací velkých rozměrů.
Naše práce jsou obvykle k vidění na menších českých i zahraničních nekomerčních festivalech a jiných komunitních akcích.